New York Brazilian artist Adriana De Castro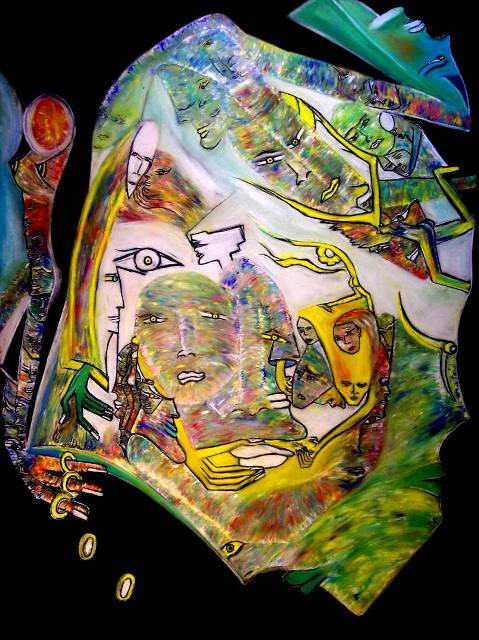 | | | |
| --- | --- | --- |
| | | |
| | Blue Face | |
| | | |
Blue Face.

True benevolence, from the mind of the innocence;
Clues, evidence, from the lines of the conscience;
Intense suspense of laments, fragments, from life to life;
Immense sense of circumference, segments, from body to body;
Dimensional forms, designing the insights, from catharsis: rich in commotion;
The unintentional performs, shining sky-lights, resplendent devotion.

Blue Grace.

I think this is my face, transforming us, in such deep ways;
My fingers are the stringers, drawing us, outside my brain;
My fingers are the sprinters, wandering through our domain.
Blending the pigments of indigo colors, upon the philosophy of us;
Sending the sentiments, in cognitive solos, upon the theology of Thus.

Expressionism, impressionism, isomorphism, surrealism;
Melodrama, panorama, in the drama, that we live;
Monogram, diagram, in the plasma that we crave;
Metamorphosis of life, deep in trance: psychological;
They are lost, they are trusted, they are in the transitional;
Movement upon the cliff: eclipse - mental;

I was there, for sure! - submerged, in one state of solitude;
Inside the suspense of the night: the darkling was sparkling in the sky;

Stars crystallizing in my eye: czars prophesying in my mind;
Then the sphere became convex: with so many people, so complex;
Influencing me with a sign: unconditional love: towards your praise.

Faces, blue, the ages: like a symphony;
Time passing by, composing harmony;
I will be here, you will be there: everywhere;
Past-Present-Future - laying the minutes: seconds in secular;

Tick-Tock, Tick-Tock, the Clock: around the block; open the lock: intermolecular!

Tick-Tock, Tick-Tock, the Clock: surround the logic: geologic, biologic, ocular!

Walking, walking: guided by the moonlight; painted by the twilight;
As the sunshine of the day goes into the night;
The wisdom of the older: molded gold on the shoulder;
Carrying the vow, from beginning to end:
To show all the good that prevails: the wizard of the soul;
Dazzlingly: all the skills, in any field – that we revealed.

The Young will behold all the future in their hands;
Keeping the Earth eminent, to this bent: treasures sent:
From heaven: voices of love, singing our existence;
Blue ages, the face, just like an old tree;
Growing all the leaves beneath you and me;

And we write our phases, stage by stage;
We read all the lines, page by page;
Upon a magnificent planetarium: an Olympiad of life to live;
Blue face, blue grace: my face, complimenting you, within my love forever.
New York Brazilian Artist Adriana De Castro
click here for: Salvador Dali Art Dealer Family Letter of Recommendation

click here for: artist feature, DaliLand International - www.daliland.com

poems

[click on any poem]

Dear, friend, this is for you, with all my feelings in colors, hoping they can touch your dreams, awakening my art in your life … and if you can send me your thoughts, I will be so grateful! … I'm just an artist from Brazil, where the destiny brought me to the US in 1997 … when so many things in my life were falling apart … I got lost and isolated in a strange, different world … at that time, not knowing how to speak English, I crossed so many obstacles, beneath my eye … and finding the magic of faith, I resolved to change all the negative to positive … transforming them into hundreds pieces of art … now I am learning how to write in English, to transform infinite emotions, in my mind … and release them free as birds, to fly around your light .

FEB 2006 PARTS OF THIS WEBSITE UNDER CONSTRUCTION OR LINK TO ANOTHER SITE WE APOLOGIZE FOR ANY INCONVENIENCE

EMAIL CLICK HERE - adriana@adrianadecastro.com

C L I C K O N A N Y T H U M B N A I L P R I N T B E L O W F O R P O R T R A I T & P O S T E R E N L A R G E M E N T
| | | | | | | |
| --- | --- | --- | --- | --- | --- | --- |
| | | | | | | |
| | | | | | | |
| | | | | | | |
| | | | | | | |
| | | | | | | |
| | | | | | | |
| | | | | | | |
| | | | | | | |
| | | | | | | |
| | | | | | | |
| | | | | | | |
| | | | | | | |
| | | | | | | |
| | | | | | | |

New York Brazilian Artist Adriana De Castro
"Adriana: stunning for what I saw, especially, Series 1, The Cross; the influence in your art is not only from Pablo (Picasso) or Salvador (Dali), it is cubism, in general, that acquires the top of the depuration; Miro would be so proud of that perfection." Dr. Virgilio Vinas ( ... his grandfather was career art dealer for Salvador Dali; private collection includes 2 Dalis and 1 Picasso.

"compared to me, De Castro has a Ten Times better chance of making it as a big time artist ...... Adriana's work is really excellent ... the figures and faces remind me of many great artists like Chagall, Picasso, Klee ... she is really gifted and visionary." Dr. Christopher L. Evans; Ph.D, Masters Fine Arts, UCLA; Emmy winner (Steven Spielberg), Oscar nominee (George Lucas), artistic advisor to Martin Scorcese; veteran fine artist now exhibited at 3 top Manhattan art galleries; publicized by Wall Street Journal, New York; worldwide press; www.christopherevans.net

The art of Adriana De Castro communicates the abstract inner language of human conscious awareness in its connection to the divine - the cosmic complexity of life: spirit-form representations at the level of metaphysical extrapolation - a suffering mankind kissing the face of the vast, invisible, yet innately good universe ... powerful and variegated expressions of our mortal condition - life, love, fear, destruction, creation, celebration and mystery; a wide field of psycho-physical contemplations, in a profound dance of physical humanity reaching to its heart reaching to its divinity; the human condition in its phantasmagorical sense - from the postulated extremes of pain and suffering to the sacred feast of love, hope and dreams - transfigured by an ordinary yet supramundane consideration of the life drama and enigmatic journey to the divine - art that is esoteric yet accessible; sacredly inward yet openly convex; mystically vibrant yet real.
---

Dear, friend, this is for you, with all my feelings in colors, hoping they can touch your dreams, awakening my art in your life … and if you can send me your thoughts, I will be so grateful! … I'm just an artist from Brazil, where the destiny brought me to the US in 1997 … when so many things in my life were falling apart … I got lost and isolated in a strange, different world … at that time, not knowing how to speak English, I crossed so many obstacles, beneath my eye … and finding the magic of faith, I resolved to change all the negative to positive … transforming them into hundreds of pieces of art … now I am learning how to write in English, to transform infinite emotions, in my mind … and release them free as birds, to fly around your light . .................................

series 9
series 10
series 11
series 12
series 13
series 14
series 15
series 16
series 17
series 18
series 19
series 20

revision March 20, Music to Art

revision March 20, Her Poem

revision March 20, ---> Artist's Resume

EMAIL CLICK HERE -